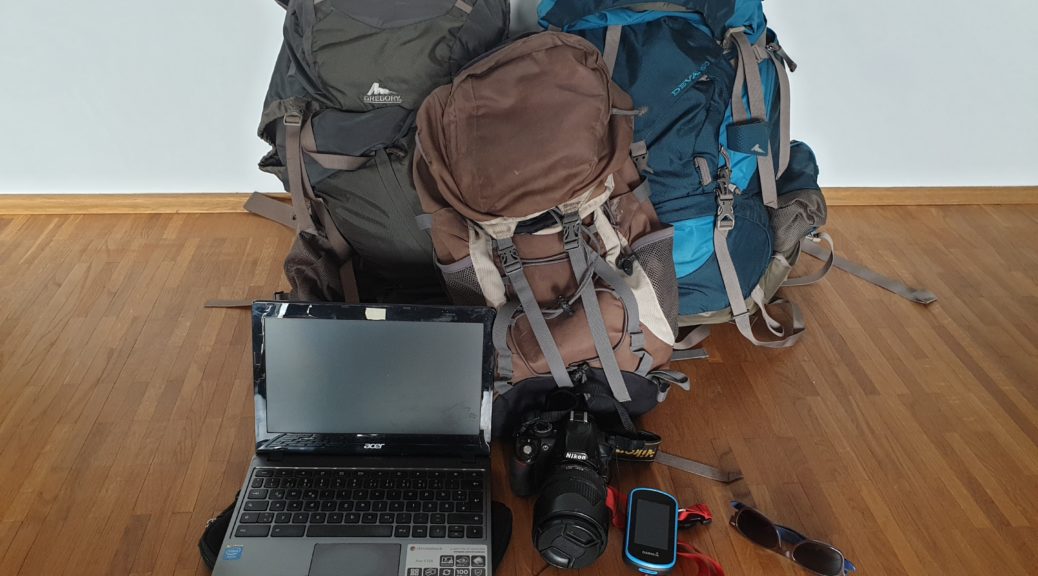 Packing List for Travelling light and easy
Packing List for Travelling light and easy
Packing list for travelling – how to travel light and efficient
During our travels we have recognized that travelling with a light backpack is one of the key drivers that makes trips more efficient. Therefore, we want to share our packing list for travelling with you.
Having a light backpack is also important when you are renting a car as we prefer to do it on our trips. We experienced that taking every evening the backpacks from the car into the guesthouse is annoying, especially when we hardly managed passing through the door and even harder to take the stairs up to the room. Therefore, we removed with each travel more and more items from our backpacks.
The essential items are listed here as an indication and guideline for you because we are sure that there is NO master packing list due to individual wishes especially in regards to clothes and technical equipment. Especially the technical equipment is still one of our personnel (and honestly big) discussion points when preparing the backpacks 🙂 We have added here also affiliate links for the products we are really using ourselves and are convinced of the added value and the quality.
Find a best-fit backpack!
The most important element of a comfortable travel is a well fitted backpack. We spent several hours in an outdoor shop to find the one backpack fitting the best to our backs. Do not forget to walk around in the shop with weights included. I am now using for five years the backpack from GREGORY Deva (60 liter) and Paul is carrying also a GREGORY Baltoro with 75 liter.
We are in general using two day backpacks whereas one is from Jack Wolfskin with separated sections to organize the items. In addition, we have a small bag for the camera. Previously, we have used the Salewa bag pack what was very convenient for our trips but this one did not had any special shelf for a notebook.
Packing & Wrapping
We are organizing and sorting all the items with laundry nets and basic bags. We are packing a whole cloth set for one or two days so that we do not need to take out all the items from the backpack and re-pack it every day completely:
Documents
The following documents are very useful for a trip (in some cases copies are sufficient):
Passport and local ID cards (original documents but also copies in case you do not want to show or hand-over your official passport or also in case of a theft)
Vaccination certificates (we always take only copies of our vaccination certificates)
Global health insurance (original letter / certificate and copy)
Local driver license
International driver license for travelling outside of Europe (please pay attention that the international driver license originated in Germany expires three years after origination and needs to be renewed)
Airplane / train tickets or pre-booked hotel confirmations (electronic versions are sufficient) but it is worth to have the address and telephone number of the first hotel at hand on a piece of paper so that the bus / taxi driver can contact the hotel to confirm the address / way
Telephone numbers to lock the credit cards in case of the fraudster
We have digital copies of all these documents in a secured area of Dropbox and Google drive.
Clothes
Clothes are a very individual topic. We try to minimize the clothes since laundry shops are all around the world available and are in general cheap. Depending on the climate zone we take clothes for maximal five days. Especially, functional trekking ware is perfect since they are drying very fast and you can also wash them overnight in the bathroom if needed.
Since I cannot live without going for a run, I am in general wearing my running shoes on our trips when not walking around with flipflops. Paul has special trekking shoes but they should be light and breathable to wear them in warmer as well as in colder areas.
There are three pieces of clothes we are always taking with us since they are so multifunctional and good for warm as well as cold weather:
Long-sleeve Merino shirt
Merino legging
Fleece jacket / pullover
Daily utensils & other items
Other useful items we have always with us are the following things (links to our products see below)
Light weight sleeping bag
Insect Shield Inlet von Cocoon (one in line and one in silk)
Mini Swiss set incl. needle, knife, scissor, tweezer, small screwdriver – this was a present from my former company and this is unbelievable helpful and so light (but please put it in your check-in luggage)
Money belt to carry larger amount of cash
In colder areas we take our sleeping back with us (especially when going camping)
Sunglasses
Thermos bottle (0.5 liter) and some small packages instant coffee (since we were not always happy with the local coffee)
Non-slip bathing shoes
Old credit cards as fakes for the wallet (in case of a robbery)
Pillow and neck pillow in one (non-inflatable) – yes, indeed, this pillow needs some space in our hand luggage but it is worth due to the comfort and I am using it also in the hotels on our trips
Travel clothes line
For colder areas we also take a sleeping bag with us. But since the backpack are already quite staffed with long clothes for us, the weight and the size of the sleeping bag were our important criteria. This is why we have chosen the following one since with its 1.3 kg it is quite light. The recommended temperature is about -9 degree Celsius what was sufficient for our purpose since we are using the sleeping bag in majority in not (sufficiently) heated guestrooms or the campervan.
Washbag
Our washbags are in general quite heavy but we have recognized that cosmetics are in other countries quite expensive. We have in general the following items in our washbag:
Toothbrush
Tooth paste
Day and night face cremes and light makeup
Deodorant stick
Shampoo
Comb
Makeup pads / humid face tissues
Shaver and shaving cream
Sun blocker
Hand disinfection tissues and gel
Sewing kits
Since we are wearing glasses, we always put some packs of contact lenses in our bag
We are not taking any soaps since in general soaps are available in the guesthouses.
Medicine
In general, the main medicine will be available in each country however it is always good to take some basic medicines for immediate intake:
Ibuprofen against headache and general pain
Paracetamol against fever and pain
Blistering and general plaster
Malaria pills dependent on the country
Disposable gloves
Electronic equipment
Since we are blogging and working from abroad during our travels we might have a longer list of technical equipment:
Camera
Replacement battery for the camera
Several SD cards to save the photos
Acer Chromebook (Light Notebook) – Paul is using
Apple Ipad mini for me and ear phones
Mobile phones
Charger for all electronic equipment
Kindle Paperwhite
Cable to contact camera to Chromebook and to iPad
Garmin for navigation
Batteries for Garmin
We have just bought last year a new Garmin for navigation since we are using it the whole time during our trips (when walking around and also for car navigation). We currently using Garmin eTrex Touch 25. This is now for us the first time with a touch display of the Garmin. But after the first three trips, we are very satisfied and it is easier to navigate compared to the small button we had with the Garmin eTrex 20. The handling of the Garmin are comparable between the different versions and the touch screens makes the zooming more comfortable.
Explore further countries:
Continue reading the most popular blogs: