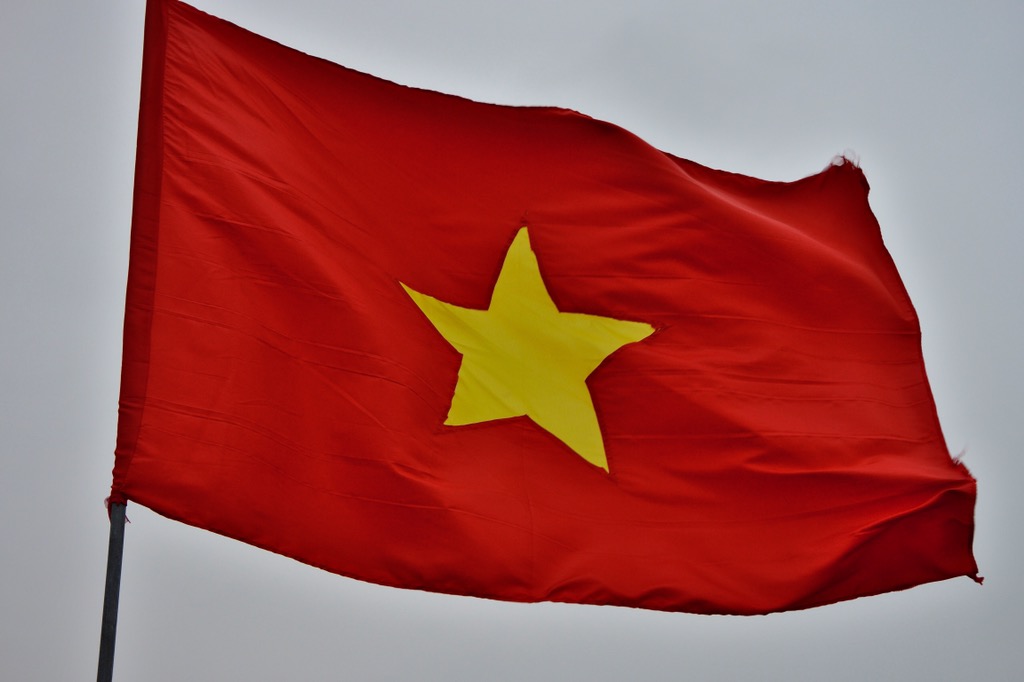 Vietnam Travel Tips
Vietnam Travel Tips
Arriving in Vietnam from Combodia via bus
From Cambodia we continued our Around-the-world-trip towards Vietnam. We have taken a bus from Phnom Phen in Cambodia to Vietnam. The bus drive was very convenient with an easy boarder crossing. At the boarder we had to take out the luggage and cross the boarder with our luggage and went then back to the respective bus. We have applied for the Vietnam visa in Phnom Phen at Vietnam's embassy. This has last only 24 hours. But there were also possibilities to receive a Vietnam visa even within several hours in case you are in a hurry. Continue reading and get our best adventures and travel travel tips for the marvelous Vietnam.
Being a millionaire has never been easier on our trip than in Vietnam. The exchange rate is about 25,000 dongs (Vietnam's currency). This means that with 40 Euro we are already a Dong millionaire and ending up with more than a wallet full of bills.
Our route through Vietnam
We have chosen the direction of travel from the South starting in Ho-Chi-Minh City (Saigon) to the North ending in Hanoi resp. Sa Pa. Vietnam's size from North to South is around 1,650 km. However, at the most narrow area from East to West the size is only around 50 km. Since my parents-in-law are joining us for two weeks through Vietnam, we decided to rent a car with a driver instead of taking buses and trains. Self-driving even with an international driver license is unfortunately not possible in Vietnam.
The honk and the high beams are the two main elements of driving in Vietnam. Motorcycles, cars and pedestrians are entering the street no matter whether somebody else is already driving on this street. Signs for touristic sights are not common on the streets. Despite that our driver is driving without a navigation system and he is not trusting our Garmin navigation. This ends up in long hours in the car to find the right way, asking locals who also send him in the wrong direction and taking small gravel roads.
Content
Saigon / Ho-Chi-Minh City
Nha Trang
Hoi An (UNESCO World Heritage)
My Son (UNESCO World Heritage)
Hue (UNESCO World Heritage)
Demilitarized Zone (DMZ)
Phong Nha-Ke Bang National Park (UNESCO World Heritage)
Ancient capitals (UNESCO World Heritage)
Phong Nha-Ke Bang National Park (UNESCO World Heritage)
Halong Bay
Hanoi (UNESCO World Heritage)
Sa Pa
Traditional dishes in Vietnam
Our hotels in Vietnam
Our recommendations
Our travel tips for Vietnam
Ho-Chi-Minh City / Saigon
The first stop is Ho-Chi-Minh City named after the leader of the Democratic Republic of Vietnam after 1945. But the old name Saigon that this city had before the reunification of Vietnam in 1975 is still used. The traffic in the city is dominated by motorcycles and we have seen curious things transported on motorcycles: two dead chickens, big flower pots, several buckets with fruits and of course the whole family. Like in Cambodia, crossing the street safely is a challenge and the majority of the streets do not have sidewalks for pedestrians. And in case there is a sidewalk, motorcycles also use it due to the crowded streets what didn't make our life as pedestrians easier.
Post Office (Government quarter)
The post office of Ho-Chi-Minh City was built at the end of the 19th century based on a plan by Gustave Eiffel. Ho Chi Minh is watching the employees of this post office from a huge portrait on the wall.
Notre Dame Cathedral (Government quarter)
Next to the post office is the Notre Dame cathedral – one of the most important colonial building in the city. The cathedral with its two 40 meters high towers tipped with iron peaks was built between 1877 and 1883. In front of the cathedral is a statue by Virgin Mary.
Jade Emperor Pagode
The Jade Emperor Pagode is built by the Cantonese Congregation and is one of the most colorful pagodas in Ho-Chi-Minh City. This pagoda has a nice brick structure on the roof.
Reunification Palace
In the Reunification palace the time seems to have stood still since 1975 when it was the governmental building of South Vietnam. The rooms in the Reunification Palace used for conferences or welcoming guests are still equipped with the original furniture. This was one of the most fascinating place we have visited in Ho-Chi-Minh City.
Skyscrapers of Ho-Chi-Minh City
Besides these colonial buildings Ho-Chi-Minh City has a modern and commercial area with skyscrapers, luxury hotels and brand shops. From the rooftop bars in one of the hotels we had an amazing view on Ho-Chi-Minh City enoying cocktails with the parents-in-law.
Central Market
The central market of Ho-Chi-Minh City is worth visiting. Besides the delicious fresh fruits you can buy almost everything what you need – from meat and offals over clothes to shoes.
War Remnants Museum
This is one of the most popular museums for tourists but it shows the brutality of the war and that the real victims are always the civilians.
Drive from Ho-Chi-Minh City to Nha Trang
Vietnam is referred to a "bamboo bar with two pots of rice" due to its shape: in the North and the South of the country there are fertile rice fields and in between a narrow countryside with forests, mountains and beaches along the coast.
Nha Trang
The route from Ho-Chi-Minh City to our first sight in Hoi An is about 1,000 km. Therefore, on approximately half of this route we stopped for an overnight in Nha Trang at the coast. Due to its several kilometer long beaches and its colonial houses, Nha Trang got the name "Nizza of the East". Nha Trang is a very touristic place and very popular for Russian people. It looks like Russian is a third language in Nha Trang since every menu in restaurants is in Vietnamese, English and Russian.
Hoi An (UNESCO World Heritage)
The distance from Nha Trang to Hoi An (UNESCO World Heritage – Hoi An Ancient Town) is about 500 km. But due to road conditions, traffic and construction sites it took us approx. 12 hours to get to our destination Hoi An. But is was a worth trip – Hoi An was one of our highlights during our visit of Vietnam. Hoi An is a picturesque former trading center of Southern Vietnam. The port has been opened for foreigners in the 16th century. Traders from China and Japan settled in Hoi An and built their own quarters since their countries closed their ports.
The city was divided in two parts: the Japanese were living on one side of the Japanese bridge and on the other side of the bridge, there were Chinese settlements. The historic city center was not bombed during the Vietnam war and therefore, the old town is remarkable intact despite its age and the houses. Assembly halls, communal houses and temples that you can visit are well maintained. Walking through the narrow but atmospheric and almost motorcycle free streets is like a journey back in time. However, the many souvenir shops, tailors and restaurants are blocking the view to the historical signs.
My Son (UNESCO World Heritage)
My Son Sancuarty is located approximately 60 km from Hoi An. Due to the architecture it is sometimes described as Vietnam's Angkor Wat but that is hardly fair: My Son contains much fewer and more destroyed ruins compared to Angkor Wat. It was a religious center starting in the late 4th century and dedicated to kings. The monuments are created with bricks and after finishing the decoration was carved into the stones. During the Vietnam War, Vietcon used My Son as a base and therefor American's bomb attacks destroyed the buildings.
Hue
Citadel in Hue (UNESCO World Heritage)
Hue was Vietnam's capital from 1802 until 1945 and is located at the sea and near a mountainous area. This means it is a quite rainy city what we experienced during our two days we spent in Hue. The citadel in the old town (offical name: Complex of Hue monuments) was the emporer's palace and it includes the forbidden purple city. The forbidden city was originally constructed based on the model of its big brother in Beijing. Hue was unfortunately seriously damaged by the North and South armies during the Vietnam war due to its location at the demarcation line. But some buildings have been completely reconstructed.
Thien Mu Pagoda
Just some kilometers outside of Hue lie the imperial tombs of the Nguyen dynasty and several pagodas. We visited the Thien Mu Pagoda which is with the seven levels the highest temple of this kind in Vietnam and located at the Perfume River. The pagoda has another rather uncommon sight: an old Austin – a small car standing in a garage. This car was used 1963 by a monk driving to Saigon who burnt himself on the street to protest against the persecution of Buddhists.
Tomb of Khai Dinh
The tomb of the last emperor Khai Dinh is a huge area with the main building in a combination of Vietnamese and French architecture. The mandarins and the animals are guarding the tombs in a way similar to the Terra-cotta warriors in China. These stone mandarins are all quite small since it was not allowed that they are taller than the emperor. The tomb itself looks rather like a palace with its impressive mosaic decoration.
Demilitarized Zone (DMZ)
Going further to the North we have crossed the 17th parallel where a DMZ has been established in 1954. This zone is along a corridor of 5 km on both sides of the Ben Hai river. During the Vietnam war the DMZ ironically became one of the most militarized zones in the world. The majority of the bases and bunkers have already vanished but monuments and small museums have been maintained on both sides.
Phong Nha-Ke Bang National Park (UNESCO World Heritage)
On our way we stopped at the Phong Nha-Ke Bang National Park since it is inscribed in the UNESCO World Heritage List. Unfortunately, the park lies also in an area with a lot of rain. But the boats we had to take to get to the caves of the park are fitted to the rainy situation and were equipped with a roof. The cave is the largest one in Vietnam with its 55 km but only the first kilometers are accessible by tourists.
Ancient capitals (UNESCO World Heritage)
Vietnam had many different names in the past and with this also the capital of Vietnam changed several times. On our way to the North of Vietnam we passed by some other ancient capitals. All of them we visited are recognized as UNESCO world heritage and this is the reason why these sights are on our itinerary for Vietnam – of course. Since some of the citadels of the dynasties are in the middle of nowhere and some of them are quite ruined this ended up in an odyssey to find them. This was only one reason, the other one was that our driver refused to take his navigation system and he didn't want to follow ours…
Citadel of the Ho Dynasty
We saw the citadel of the Ho Dynasty only shortly before the sunset. But this wasn't too bad since all the signposts were only in Vietnamese and the building itself is quite ruined. Nevertheless, somebody was there to request an entrance fee from us – just to view from the outside…
Hoa Lu
Hoa Lu was twice the capital of Vietnam and the citadel covered an area of about 3 sqkm. Many of the buildings and the royal throne are maintained. Our travel book suggested to hike up the hill for the best view on Hoa Lu what Paul did alone. According to his stories, he was risking his life due to the gravel and not available paths to get these beautiful pictures.
Halong Bay (UNESCO World Heritage)
Ha Long Bay consists of a dense area (approx. 1,600 sq km) of around 1,600 limestones monolithic islands rising from the sea and each is topped with vegetation. Several islands have caves and on two big islands people are living as well as touristic hotels have been built on these islands. On the sea, a community of fisherman is living on floating houses including a school for their children. The islands have acquired their names as a result of an interpretation of their shapes. Such names include cat island, turtle island, fighting chicken island and saddle island. The latter is also shown on 200,000 Dong bill.
Arriving in Halong City at one of the uncountable ferry terminals, we tried to catch a boat to cruise the Halong Bay. After determining the price of only around 25 USD per person we inspected the promised boat. We could not believe that the big boat usually used for large groups of tourists will be our private boat taking us around the Halong Bay for this price. But indeed, we were the only four person on this boat for the three hour cruise. Unbelievable!!
Hanoi
After approximately 2,500 km and ten days after starting in Ho-Chi-Minh City and driving through Vietnam, we arrived in Vietnam's capital Hanoi. Despite this, Hanoi is also Vietnam's cultural center with many historical sites.
Old Quarter of Hanoi (UNESCO World Heritage)
The Old Quarter (offical UNESCO name: called Central Sector of the Imperial Citadel of Thang Long) has the original street layout and architecture of ancient Hanoi. In the beginning of the 20th century, Hanoi only consisted of about 36 streets that nowadays form the Old Quarter. Merchants and households of each street were specialized in particular trades, like silk, jewelry, bamboo ladders or shoes. The names of the streets still reflect this even though the business of the habitants has changed.
Since we visited Hanoi during the Tet celebration for the new year, the city was quite empty and a lot of shops were closed due to the vacation period.
City Tour in Hanoi
Since Hanoi was also the administrative center of the French colony of Indochina, many buildings in French colonial architecture are still present in Hanoi, for example: opera house, presidential palace and St. Joseph cathedral.
Chúc Mừng Năm Mới from Vietnam – Vietnamese new year (Tết) allowed us celebrating a second new year within four weeks. We were lucky visiting Hanoi during Tết since less motorcycles were riding through the streets, almost all shops were closed and so we had an incredible view on the ancient houses in the Old Quarter. However, this created the challenge to find something to eat for reasonable prices and a travel agency to buy bus tickets for our further trip. A bizarre tradition during Tết is to burn money as offerings in the streets (and we really mean in the middle of the streets) but it seems to be fake money. Producing paper offerings and especially the fake money is quite a big industry in Vietnam and China.
Due to the plenty fake money, we were scared receiving a never seen before two Dollar bill from the money exchange counter. But we found out that this bill is quite rare but really exists. So, we will keep as a souvenir from Vietnam.

Sa Pa
Sa Pa is a very scenic region with its rice terraces. We were trekking in Sa Pa for two half days and approx. 20 km in total to the minority villages Cat Cat, Lao Cai and Ta Van. All these villages had dozens of small shops with homemade clothes, bags and jewelry. Parts of the tour went through narrow slippery paths, steep downhill muddy trails, through thick fog with small drops of rain, across rivers and next to pigs and huge water buffaloes.
On the first day, the hike down to the first village was very steep and we were suddenly well aware of the strenuous walk upwards back to Sa Pa. Walking down with a guide and in a group ended up with climbing up alone with the guide – all except of us were taking a motorcycle back to Sa Pa. The cooler temperature in the mountains however made it a very pleasant walk and we enjoyed these two challenging days.
We experienced the chaotic way of Vietnamese travel on our way back from Sa Pa to Hanoi. We were not allowed to enter the booked bus since the bus company told us that our travel agency had not paid our trip back (only one way). 30 minutes later and after four phone calls with our travel agency we were allowed to get onto the bus. However, in the meanwhile many other people got into the bus so that there were no seats left for us. This meant either sitting on the floor of the bus for six hours or to take a night bus leaving seven hours later. We decided to take option one…
Traditional dishes in Vietnam
In Hanoi we enjoyed every day the tasty street food. Walking through the streets of Hanoi we found people eating and sitting on plastic chairs on the sidewalks next to people preparing and cooking food. We are now real fans of a Vietnamese food especially the delicious and healthy Pho soup was our favorite for breakfast or dinner.
Pho Soup

Several times during our visit we tries Pho Soup – and we still do this back home in Germany since we really love this delicious soup.

We have tried the typical Vietnamese Pho soup – for breakfast, for lunch and also for dinner. The soup with its rice noodles is very delicious. In the Pho soups specialized restaurant "Pho 2000" in Ho-Chi-Minh City, the former president Bill Clinton also stopped by for a bowl some years ago. This one is located near the Central Market.

Bun Cha

Crispy roasted pork – this was the first dinner we had in Vietnam when we arrived to Ho-Chi-Minh City

Nem / Spring Rolls

Always a good decision!

Hot Pot

Favorite family dish we enjoyed whenever we had enough time

Morning Glory

Lovely vegetable with lots of water spinach

Vietnamese Coffee

Coffee in a traditional way with condensed milk – creamy and tasty
Due to Tết we had problems finding an open travel agency for a bus to Laos. Therefore, we decided to book a flight by our own which was the more expensive but shorter option. This also allowed us to extend our stay in Vietnam in order to do an excursion into the Vietnamese mountains near the border to China.

Our recommendations for Vietnam
Travel guide – always relying on our favorite Lonely Planet
Our hotel recommendations
Explore further countries:
Continue reading in the most popular blogs: